Adele and Gavin, wedding testimonials from Ireland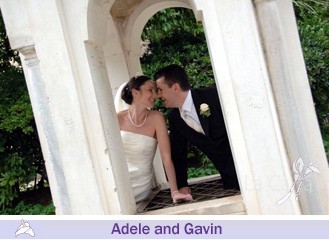 Dear Marianna and Laura
Thank you so much for all the fantastic work you did in organising our wedding on Ravello.
The staff at Villa Maria and Hotel Giordano were so helpful and our guests had such a fantastic time that they are all planning to return. Marzia could not have done more for us in organising the details for the receiption in Villa Eva, nothing was too much trouble.
The service during the meal was fantastic, as was of course the food, the location and the breathtaking views. The jazz band and DJ were amazing and we had a really great time dancing until the early hours. The flowers and string quartet added to the beautiful ceremony in Duomo Ravello and Don Giovanni made the ceremony very special.
A very big thanks for Lino, the photographer, who's fantastic photographs will help us to relive the memories for years to come. We would be happy to email photo's for your website if you like. I could go on but lastly thanks to you both for all the help and advice over the last year, we really could'nt have done it without you. We would (and have already!) happily recommend your services to anyone thinking of getting married on the Amalfi coast.
Very best regards,
Adele and Gavin