Alex and Gina, wedding testimonials from United States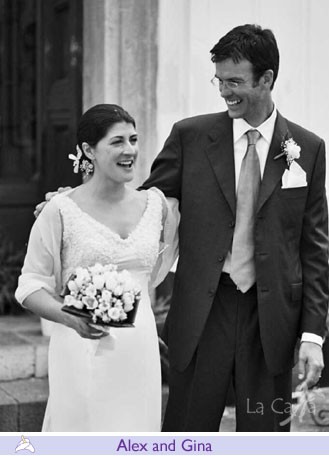 Laura and Marianna!!!!!
Finally I have a moment to sit down and write to you both.
I need to tell you just how WONDERFUL the wedding was, and thank you both for making it all happen. We still are talking about what a great time it was, and all our friends had an unforgettable experience. It was truly magical -- the church, the Amalfi Coast, the amazing dinner, the mandolin players, the cocktail reception. (Our friends must think we are millionaires!!)
I wanted to send you some photos. Lino's photos came out really great--we love them, so please thank him for us.
The dinner was perfect, the flowers, the menus, the table (we got one big table and everyone loved that), and the service was impeccable. It made the night very special.
And the flowers. My god, so beautiful!! Please thank the florist for us as well!!
Well I could go on and on and on about what a special time we had. But I'll save that for a surprise phone call one day. I'd love to say hi and see how you both are doing!
I'm truly sorry it has taken me so long to sit down and write this letter, but it doesn't diminish our gratitude for a great wedding and a great vacation!!
Please send your new office address and contact information so I can pass on your name to the many people who also want to get married on the Amalfi Coast!!
Baci e abbraci to you both!!
Gina e Alex