Antonieta and John, wedding testimonials from United States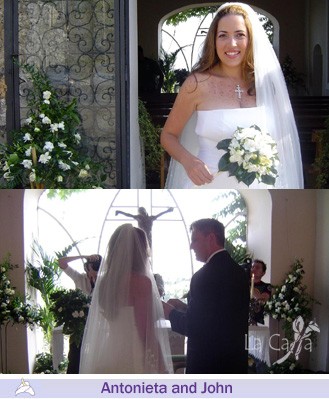 Dear Marianna,
Thank you! Thank you! Thank you!
My memory of our wedding is a perfect one! Everything was as I dreamed and then a little bit better! Father John was the sweetest! The chapel was perfect! The music, wonderful! The flowers!!! The smell was such a sweet surprise!!! Did you smell that? I will forever remember that beautiful smell!
And you, Marianna, thank you for everything! I wasn't worried or stressed at all. I felt so calm and confident knowing you took care of everything! Thank you!
And thank you so much for helping me with my dress!!
We have such a wonderful memory of our wedding day and we have you to thank for it!
We are so happy, Marianna, we can't thank you enough!
Once again, Thank you!!!!
love,
Antonieta & John Norman