Arjen and clare, wedding testimonials from Netherland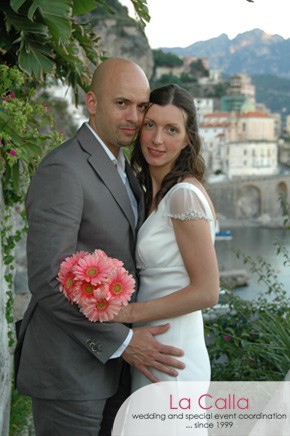 Dear Marianna, Laura & Stefania,
Sorry it has taken a couple of weeks to send this but we have been busy with our honeymoon and afterparty.
We just want to say THANKS SO MUCH for all your help. We truly had a fabulous and perfect wedding day. I can't imagine we would have been able to organise it without your help and advice. The church was beautiful and a perfect size for our small group, the hotel was amazing and the tower was so romantic. I felt everything went really smoothly with the hairdresser, nails, flowers, photographer, church & reception etc on the day. We really had no complaints!! Thanks for all your help during the week also. Amalfi was a perfect location and we definately will return.
I will email some pictures later in the week, we were really happy with them if you can pass on our compliments to the photographer as i forgot his name. If you would like any help recommending your services I would be happy to do so.
(As an afterthought... I think you could charge more for your services!!!!)
Thanks again,
Clare & Arjen