Asami and Yoji, wedding testimonials from Japan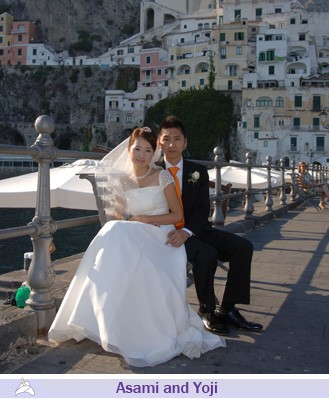 Cara Laura e Marianna,
Thank you for everything!! We had a good time than we expected.
Our budget was small but Laura managed to make our ceremony wounderful.
To be frank, I was worried about my hair and make up. I was not sure if I could tell the hair and make up artists what would like to be, but I didn't have to do that, because they knew what was the best for me.
They were totally professional.
The best thing was the wedding dinner. It was perfect. Tastes, camerieri, location...we sometimes talk about il ristrante Eolo even now.
Thank you soooo much!!
We were shy during photo shooting but we love our photos. They are so beautiful. Amalfi was really nice. Amalfi is not big city like Rome or Milano, but there're blu sea, sun, gelati, nice food, hospitality and it's very comfortable to go other places, like positano, praiano, ravello...
Sogniamo di tornare ad amalfi un giorno.
Grazie tutto!
Yoji e Asami da giappone