Eggplants with chocolate sauce.
The taste of the Amalfi Coast.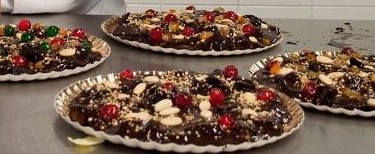 The Amalfi Coast is well-known not just for it's beautiful landscape but also for its tasteful food. We want to introduce you one of the most interesting recipes that mix the vegetable, the eggplants, with a delicious chocolate sauce.

Eggplant chocolate
Choose eggplants high quality possibly the "violet", remove the skins, cut into slices about 1/32", adding salt and leave for 10 minutes. Wash the eggplant let it dry, flour with a thin layer of white flour, and fry in oil at 356 ° deg. until golden brown. When they are still warm, move the slices in a mixture of 2 oz cocoa 180g sugar and 6 oz of cinnamon, dip the eggplant in chocolate sauce flavored liqueur concert.
Chocolate sauce:

Concentrated milk 5 oz
Sugar 9 oz
Water 20 oz
Butter 1 oz
Dark Chocolate 70% 3 oz
Cocoa 3 oz
Pectin CDR .2 oz_ or _ 9 oz
Cinnamon powder .07 oz (dash)

Cooking 229 deg
A cold join 4 oz liquor concert

Mix all the ingredients except the butter and chocolate. Boil for about 3 minutes. Allow to cool to about 122 ° deg, add 70% dark chocolate and butter, flavored with liqueur 150g concert.
Decorate with candied fruit, hazelnuts and almonds.


"Concert herbal liqueur"
(Called the one I produced "Meetings")

It 'a liqueur produced by the infusion of herbs, spices, barley and coffee, a real "concert" of herbs.
This liqueur, originally, was invented by the nuns of the convent of Pucara, part of Sunsets, on the Amalfi Coast.
Unique product, whose taste and aroma are enhanced by serving at a temperature of
40 ° deg
Ideal on ice cream, desserts and coffee, but also to customize a typical dessert of the Coast (aubergines chocolate)
The liquor was produced and is still at home with this recipe.
Published on 27 Novembre 2013 by La Calla
No comments available on this page yet.
Express your opinion with a comment
Related Posts
Blog Categories