Bobby and Lara, wedding testimonials from United States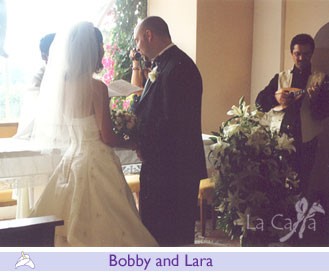 Marianna and Laura,
It's great to here from you.
I am waiting to have pictures put on a CD so I can send some to you via e-mail.
We were just showing pictures from our trip to our family and telling them how wonderful you both were and how you were such an important part of our entire wedding and trip.
The final reception dinner was this past Saturday at our favorite New York Italian restaurant Cucina. It was delicioso.
We have talked much about making a return trip soon. Make sure you let us know if either of you come to NY (or Washington DC, are you going there?).
Unfortunately, I have not improved my Italian yet. I will work on it before we return.
Best regards,
Bobby and Lara