Carl and Clare, wedding testimonials from United Kingdom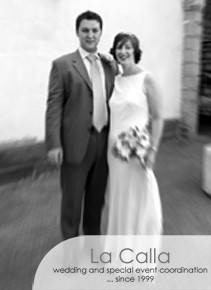 Laura and Marianna
Just a note to say a big THANK YOU for organising our wedding in Amalfi.
We were impressed by your efficiency and professionalism and you made a daunting task of organising our wedding abroad into a simple and enjoyable experience. Thank you for booking Villa Lara for our honeymoon night - what a fantastic place!
The actual wedding was beautiful and better than we could have ever imagined - I'm the sure the amount of tears shed is testimony to that!
Could you please pass on our thanks to the interpreter (sorry, can't remember her name!) as she was very friendly and made us all relax. We have already thanked the man who married us as we saw him in his shop!
We have attached a couple of pictures for you and feel free to use us as a recommendation.
We have some fantastic memories of our time in Amalfi and couldn't have done it without you.
We will come and see you next time we are in Amalfi. If you are ever in England let us know. Our parents send their thanks and kind regards.
Thank you and best wishes for the future
Clare and Karl