Cherry and Paul, wedding testimonials from United Kingdom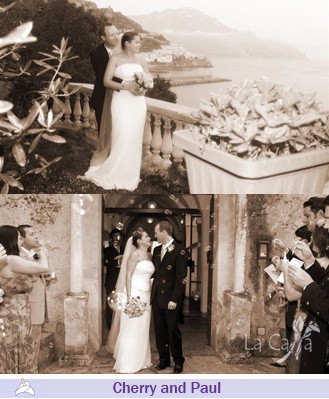 Dear Marianna and Laura,
We wanted to thank you for all the help, support and advice you have given us over the months leading up to our wedding in Ravello. The service you provided was excellent and you took away all the stress normally associated with organising a wedding, whilst still making us feel involved the whole time. Your experience and knowledge really lead to what was the most perfect day.
Our wedding day was so amazing it is difficult to put it into words. Everything ran like clockwork thanks to you and your attention to detail, and it was even more beautiful than we ever could have imagined. Ravello is stunning and I cannot imaging a more romantic place to get married.
My hair and make-up, the flowers, photography, the singing public official and much more were just perfect. Our reception at the Hotel Santa Caterina really was the icing on the cake. The service, food and views were exceptional and they really did make us feel very special. Everybody is still talking about the welcome drinks and canapes in the garden!
Everybody who attended has said that they had the most fantastic time and cannot wait to return to the Amalfi coast, and those that could not make it are now feeling extremely jealous!!
Thank you both, we cannot recommend La Calla and the Amalfi Coast enough to anybody who is considering marrying in Italy.
You were both complete stars!!
Cherry & Paul xx