Clare and Arjen, wedding testimonials from United Kingdom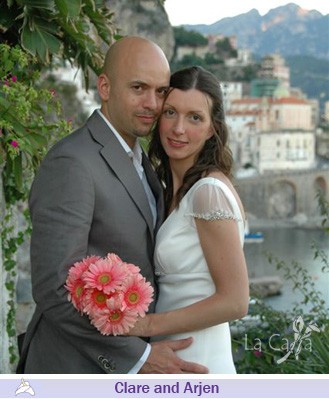 Dear Marianna, Laura & Stefania,
We just want to say THANKS SO MUCH for all your help. We truly had a fabulous and perfect wedding day. I can't imagine we would have been able
to organise it without your help and advice.
The church was beautiful and a perfect size for our small group, the hotel was amazing and the tower was so romantic.
I felt everything went really smoothly with the hairdresser, nails, flowers, photographer, church & reception etc on the day. We really had no complaints!! Thanks for all your help during the week also. Amalfi was a perfect location and we definately will return.
(As an afterthought... I think you could charge more for your services!!!!)
Thanks again,
Clare & Arjen