Danny and Julie, wedding testimonials from United States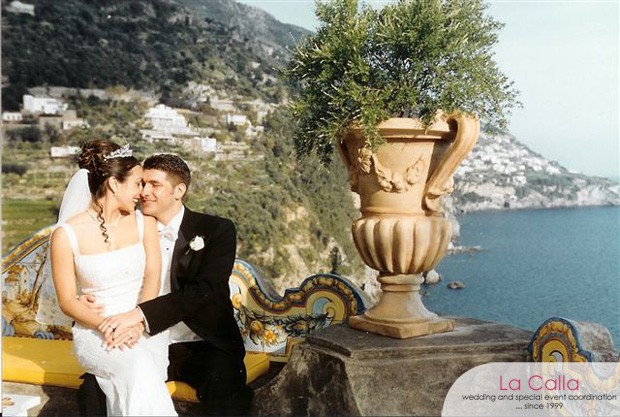 Marianna and laura,
Hello, how are the two of you doing? We miss you both very much and we wish we were still there in Positano. The rest of trip was beautiful too, but my favorite place was Positano. When we left Positano we went to Rome and saw all the historical and wonderful sites. It was so beautiful and amazing. And yes, we went to see Lazzio vs. Parma and 10 minutes into the game it got canceled because of the rain. You can imagine how upset Danny was. SO after Rome we flew to Bacelona and we loved it there. The people were so nice and helpful and there were so many things to see. After Bacelona we went to Ibiza and that was a fun and relaxing stop. Next we went to Madrid where we where we finally saw a soccer match between Real Madrid vs. Valencia. Danny was so happy and we finally got to see a match.
So our trip was wonderful and our wedding was beautiful thanks to the two of you.
WHen we came back home everyone was so happy to see us and all wanted to see pictures. The pictures turned out fabulous and beautiful. I cant thank the both of you enough for everything you two did for us. Our other party/reception took place on the 27th of April and it turned out great too, but I was so stressed.
We will send you pictures and some goodies by the end of this week. Thank you again and we are so happy we found such nice people like you. Say hello to your boyfriends from both of us and talk to you soon.
Smile ........
Julie and Danny Ott