Darren and Sarah, wedding testimonials from United Kingdom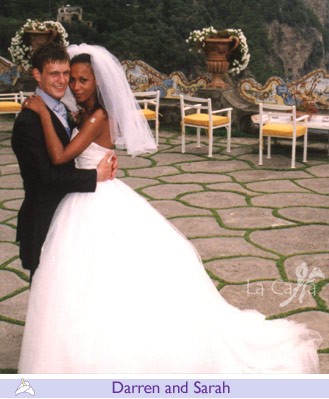 Dear Marianna and Laura
Firstly I would like to say thank you for everything you had done to help arrange our wedding - we really did have a fairytale day - it couldn't have been better and everyone is still talking about how fabulous it was and have said how they will never forget it as far as weddings go - which is a compliment to us and of course you both.
I remember every part of the day and Darren and I often run through the day like it was yesterday.
We had a wonderful party and a wonderful in honey moon in Thailand - I'm glad we chose the Island of Koh Samui itxs not as commercial as some of the other islands - we were able to relax and enjoy ourselves but at the same time we were ready to come home and get on with married life....!
We have chosen some photos and will be giving you the numbers soon properly by Monday
Hope to hear from you soon.
Kind regards
Sarah and Darren

xx