Eleanor and Kevin, wedding testimonials from Ireland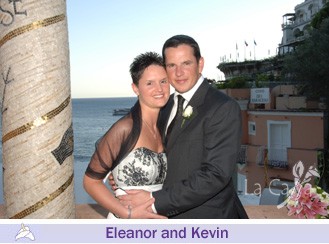 Dear Marianna, Laura and Stefania,
Thank you so much for the fantastic wedding day that Kevin and I had in Positano. Everything about it was just perfect.
Kevin and I were both very anxious to have a relaxed wedding day and that is actually what you arranged for us. Everything was organised so well, the flowers for the church were perfect and the bridal and bridesmaid's bouquets were gorgeous and exactly what I'd hoped for.
The restaurant was magnificient and we couldn't do it justice when we were trying to explain it to people when we got back to Ireland. The meal was fantastic and everyone had a very relaxed and enjoyable evening.
The lemon wedding cake that we had was definitely the highlight of the meal. It just melted in our mouths!
The restaurant that you organised for us the the night before the wedding was magnificient. Both the location and the way the food was served was so unusual. Don't think we ever ate as much!
All in all it was the most perfect day and one which we will never forget.
Thank you again for all your help,
Love Eleanor and Kevin Fennessy.