Elizabeth and Anthony, wedding testimonials from United States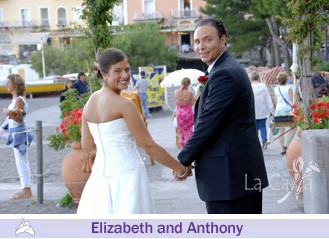 Dear Marianna & Laura,
Mama mia what can I not say about La Calla! My 3 day wedding this summer was perfect from start to finish!
Being so far away and planning a 3 day event for over 30 people I was quite worried in the beginning.
Thanks to the extremely helpful and patient staff at La Calla everything turned out just as we had planned.
Between shipping items ahead of time, organizing guests between hotels, language barriers, hot weather, boat rides and wild nights at the disco until 3am it was an experience that will stay with us forever.
Having a wedding abroad becomes a life changing experience rather then just another wedding you attend.
There is no other wedding planning agency that I would recommend more then La Calla if you are getting married in Positano!
Thank you again for all of your hard work on making our wedding a moment to remember for us as well as our guests!
Take care ladies and have a great weekend
Elizabeth and Anthony