Hannah and Stuart, wedding testimonials from United Kingdom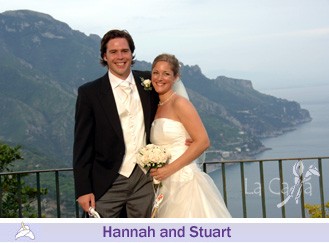 Dear Marianna, Laura and Stefania
I'm sorry for not writing to sooner to say thank you so much for doing such a wonderful job of organising our wedding in Ravello.
Many thanks in particular to Laura and Stefania for being there on the day to make sure everything ran smoothly and to Laura for helping the photographer take such fantastic photos.
We had such a great day against a beautiful backdrop and even the weather had cooled down enough for us not to completely melt in the heat. The only bad thing was that England were knocked out of the world cup whilst we were in the Ceremony, but congratulations to Italy for winning!
Thanks Marianna for bringing the photos and certificates to Maiori and for all your help in the preparation. The flowers also were absolutely lovely.
With Love
Hannah & Stuart