John and Christina, wedding testimonials from United States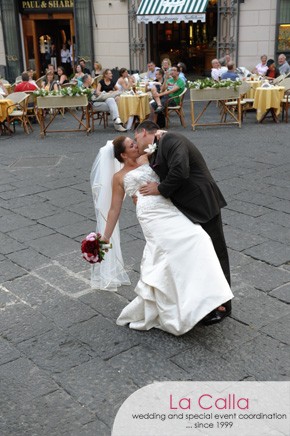 Laura,

Sorry this has taken so long but things have been very busy for us since returning home from the wedding. We sincerely want to thank you and Marianna for everything you did for us. We could not have asked for a more beautiful wedding!! From the moment we arrived at our villa (much thanks to Antonietta and all the wonderful staff at the villa), our guests were amazed! Our rehearsal dinner was such a great dining experience and the service at Da Gemma was great! The staff at Hotel Santa Caterina were amazing and our reception could not have been more perfect....thanks to all the wait staff and Armando. Tonino was fabulous and he did everything to make sure that my hair was the way I wanted it. He has such an amazing personality and did such a great job with the entire bridal party. The makeup artist Sabrina was fabulous! We cannot even begin to thank Massimo for the fabulous job he did on our photos and our album and we were so amazed that he even had our album complete before we left to go away on our honeymoon! Everyone who sees our album/photos says that they are the most beautiful pictures they have ever seen!!! The florist and his wife did a perfect job on all of the arrangements and bouquets. He matched all of the photos of everything we wanted and did such beautiful work. Thank you for helping us arrange the boat ride to Capri and all of our other transportation needs. Please thank the priest assistant for all of his help as well. We would definitely highly recommend La Calla to anyone looking for a wedding planner! Thanks again for making our wedding a dream come true! We could not have done it without you.......
Wishing we were still in Amalfi!!!
John and Christina Lahr