Karena and Shane, wedding testimonials from Ireland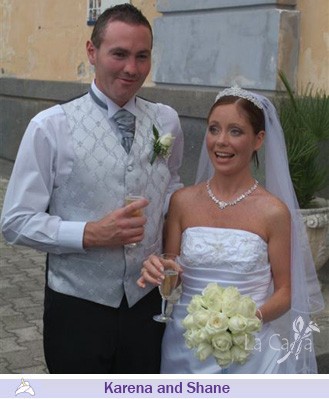 Myself and my husband decided to get married in Maiori on the Amalfi coast. It was what we had always wanted but we were a bit wary as we thought it would be quite difficult to organise it from home. We had never been to the town and we were going on the recommendation of a friend. As we both have big families our wedding was going to be quite large for a wedding abroad, we had 73 guests who came with us to celebrate.
Luckily, I found La Calla over the internet. From the moment I started dealing with Marianna and Laura I was put at ease. Nothing was a problem, I am quite a perfectionist and worry over everything, I plaqued La Calla with questions over everything but I always received prompt replies and solutions to every little problem I could anticipate.
The wedding day was fantastic, better than I could have imagined. The hotel were amazing to deal with, they could not do enough for us. All of our family and friends agreed it was definitely the best wedding they had been to. It really was so special.
I can not recommend la Calla enough, Anyone concidering a wedding in Italy should definitely seek their excellent help.
Karena and Shane Reilly