Kathleen and Kevin, wedding testimonials from United States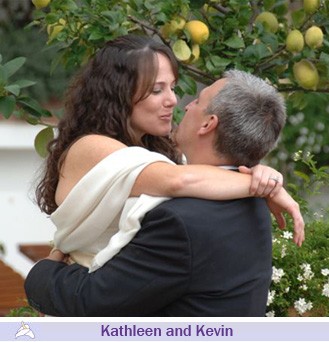 Dear Marianna,
Just a quick note to thank you again for your help with my wedding plans this past May.
Planning a wedding in Italy from the United States was certainly a daunting task, but you helped ease some of the stress. Your constant assurances, about such things as the religious documents, were much needed and appreciated (and calming)! And you were right -- everything turned out just as I had hoped.
My wedding in Positano was incredible. I still can't get the images out of my mind . . . the quiet ceremony, dinner at sunset, the beautiful landscapes . . . and of course the wonderful people and the friends I made along the way! It was like a dream.
Thank you for all your help, but I thank you especially for your kindness. You are a dear person . . . my husband and I will never forget you. We hope you know that you made two new American friends!
We will return to Positano for our anniversary next year and we will make sure to call you – let's plan to meet for bellinis!
In the meantime, take care and come visit us in New York soon!
Sincerely yours,
Kathleen