Peter and Kimberlee, wedding testimonials from United States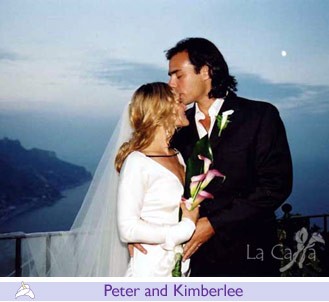 Dear Marianna and Laura,
We did want to give you the biggest, warmest hug we could from Los Angeles. We talk about our wedding many times a day, not as a ceremony, but how real it was, how authentic, how glamorous, how dream-like, and how it was a reflection of our relationship. Your kindnesses, and your support, will be remembered by us until our end, and we will carry images of you in our hearts. You were, that day, family to us. This wasn't just a wedding, but a joining of hearts, and the way it turned out couldn't have been more important. Things unfold as they should. The spontaneity, the humor, the air, your confidence and understanding -- you are lovely souls, both of you, and deserve your own happiness for bringing so much happiness to others.
Please tell Lino that his images were remarkable. In fact, most of our friends are magazine editors and writers, and even those who work with magazines who publish wedding stories are astonished. He was one more piece to the perfect puzzle.
Much, much love. And stay in touch,
Peter