Richard and Julie, wedding testimonials from United Kingdom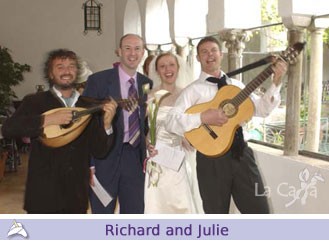 Marianna e Laura!
Hello ...and sorry it has taken so long to contact you! Here are a few pictures from the wedding we had in Amalfi. We had the best time ever and really enjoy thinking about our time out there - it really was very special.
... our wedding night and honeymoon was even more special because we now have a baby on the way! Baby is due to be born on 5th February 2005 so we will have to bring him or her to Amalfi to see where he/she came from!!...
Julie and Richard