Sarah and Robin, wedding testimonials from United Kingdom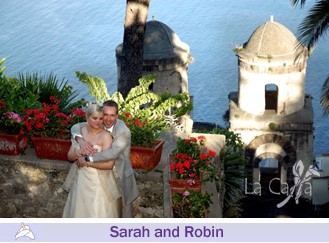 We fell in love with Ravello the year before we got married and I didn't know how our vision could be brought to reality, especially as we live in England. Marianna & Laura were fabulous, assured me (a bride who likes to be in full control) that every detail was? going to be perfect throughout the process.?
When we arrived a few days before, they helped us create the dream that was taking the Italian romance and passion with the hint of English tradition.
They did everything from looking after my dress, suggesting a chocolatier for our favors (they were gorgeous), a florist who decorated our wedding with our favourite flowers, a hairdresser, the string quartet, the ceremony and it didn't stop there.?
Laura and Stefania stayed with us throughout the entire ceremony and that was very important to both of us. All of our guests fell in love with Ravello with the breath taking views and the infectious romantic atmosphere that was captured on the day. The pictures were brilliant and we cannot thank La Calla enough!!?
Thank you
Love Mr & Mrs Haywood