Slava and Larisa, wedding testimonials from Russian Federation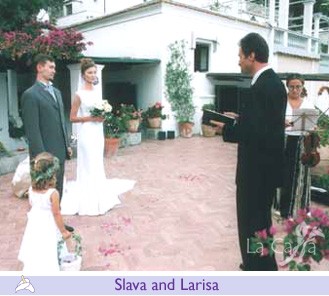 Dearest Marianna and Laura:
I was hoping to call you before we left Positano, but we got caught up with arranging out guests' departure, and before we knew it we ourselves had to catch a plane.
I would like to thank you again for all your wonderful work.
I hope you will finally take a real vacation...
We absolutely loved the pictures. We still need to sit down and decide which prints we would like to order. I will give you our final answer sometimes next week. Please thank our phtographer when you have a chance.
He is a real artist!
If you ever decide to visit San Francisco area with your friends or alone, please let us know. You are more when welcome to stay with us. We live about 30 min drive from San Francisco, and will be happy to show you around.
Thanks again and it was a pleasure to meet you (I only wish we could at least take you and Laura out for dinner, but you were so busy...)
Have a great day, and I will talk to you next week.
Sincerely,
Larisa and Slava