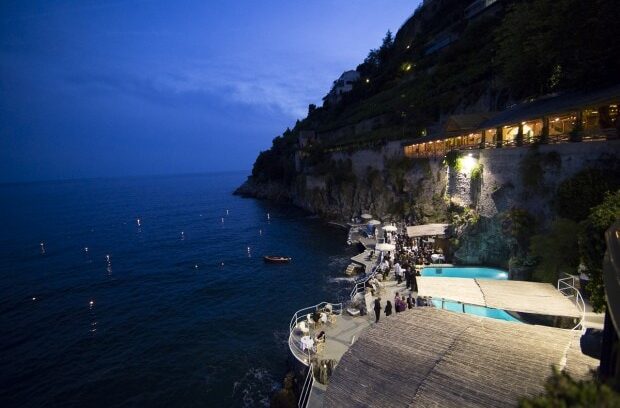 Settembre 29 , 2017
weddingvenues
Moving people around the party.
No matter where you hold your party, one think to keep in mind is the flow of your event.
Allowing some movements is always good because otherwise your guests will may feel cooped up or bored and become restless. Remember, the idea is for your guests to be relaxed and comfortable. So arrange for them to move around a bit, this keeps the energy of the event alive.
At the same time you have to work to keep your guests together in tight groupings for the sake of social interaction and intimacy. If there is too much space or if the flow is not well planned, guests my scatter, making the party seem a little empty.
Controlling the flow of a wedding party requires a delicate balance…you need to encourage some movement but you don't want people feel herded or moved around too much.
When guests first arrive at a wedding, they should be ushered to the area where the ceremony will take place and then to the reception venue if they are not taking place at the same location, as very often happens here on the Amalfi Coast.
A tableau or an escort table will be very helpful to help your guests moving from an area to another of the reception venue.
We always suggest to use different areas of the venue for each different moment of the reception, it's really important that guests enjoy each single moment of your wedding day in a very relaxed atmosphere. Having cocktails at the sunset on a panoramic terrace and then moving in a more sophisticated area for dinner will make them feel in Paradise.
If you are planning an after dinner party, beside a dance floor, we always suggest to create a sitting area for guests to move if they want a quite, more comfortable, or intimate environment.
If you are in the middle of the party and there is too much noise or music, you can always go to the sitting area and find people to socialize with.