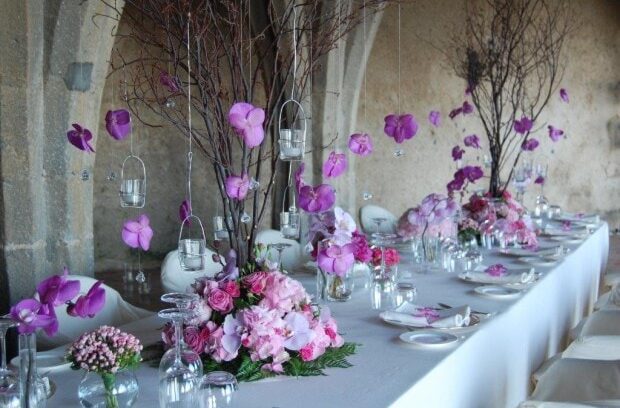 Settembre 29 , 2017
flowers
How the color can influence the mood of an event
One of the most important ways to effect a mood is through color. Though everyone has favorite colors, it is important to keep in mind that colors are often associated with a certain mood.
One of the most popular color palette is white or white in combination with pastels.
The purity and simplicity associated with white often denote elegance. More than any other color white can be traditional and contemporary, for sure it is the most versatile color.
Another popular palette is a combination of tints in lighter colors – cream, pale pink, pale lavender. These colors are often associated with romance.
Hot colors such as red and orange add energy and verve to an event. In contrast, the cool colors – blue, green and lavender – impart a smoothness or sleekness to an environment and create an ambience that is quite calming. Jewel tones – ruby, emerald, sapphire – can betoken a traditional richness and beneficence.
There are also classic associations, for example certain colors are associated with certain seasons but, today, it's ok to break the rules… For example it isn't a requirement to use light pastels colors in spring and warm reds and orange in autumn. You can really twist things around and do what you like. It is important by the way, when bringing different colors together, to choose those that will act in harmony with each other.
You don't have to choose a color and use it from the beginning to the end of an event.
For example, the ceremony might be decorated in classic white because it denotes a certain solemnity and spirituality. But the decor of the cocktail hour and the reception could use different, perhaps more festive, colors.
So, color is fascinating and playful, enjoy it.