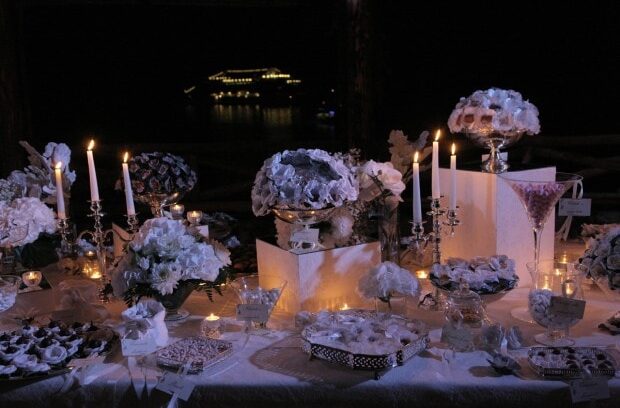 Settembre 29 , 2017
weddingdetails
The Double Meaning of Words in English…
When we entered the wedding business, just over ten years ago, one of our first lessons was that in "wedding talk", words very often have two meanings.
One of the most popular favors at Italian weddings are sugar-coated Jordan almonds, traditionally in white or in pastel colors, given out in little silk bags (bomboniere) at the end of most special occasions (Baptisms, First Communions, Graduations, Weddings, etc.).  We call them confetti.  You can imagine our surprise when one of our clients asked us if they were allowed to throw confetti at the bride and groom in the church or in the town hall.  Thinking that might hurt the bride and groom, we suggested making little paper cones filled with rice and rose petals.   It's an ancient and well established Italian tradition used to wish good luck, prosperity – and in the case of rice, fertility to the bride and groom and is usually done as the bride and groom leave their houses before the wedding ceremony.
 We didn't know anything about the multicolor little pieces of paper that the British throw to the newly married couple at the end of the marriage.  Well it turns out,  that's confetti too.
 The Italian confetti is always beautifully wrapped in either beautiful silk bags or lovely boxes – and it is yet another way to give thanks to families and friends, who were with you during your wedding day and to give them something sweet to remember such a special occasion.
 Originally, confetti were only an almond with a white hard sugar coating, symbolizing the bitterness and sweetness of married life. Nowadays, the production of confetti is amazingly abundant.  You can find a multitude of flavors, shapes and colors to be mixed and matched according to your personal taste or color scheme of your wedding.
 The latest trend among Italian brides is the "Confettata" –  a sort of candy table to be revealed at the end of the reception to surprise guests almost ready to go home, with a huge selection of confetti beautifully displayed in elegant glass vases and precious silver cups for a sweet surprise at the end of their wonderful day.