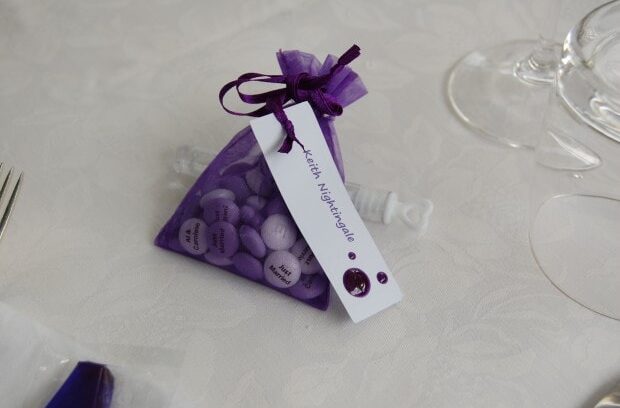 Settembre 29 , 2017
weddingdetails
"for better and worse"
Most are small enough to fit in the palm of your hand and can be as ephemeral as a handful or sugar-coated almonds. But no matter their size or shape, favors are a wedding's most  appealing elements and one of the easiest to personalize. Although favors are influenced by tradition, they are not beholden to it. In fact almost anything can be made into a favor as long as it is pleasing, portable, and available in multiplies.
Edible favors are always well received, even after a formal seated dinner. Sugar coated almonds, or dragées are customary favorites. Because the almond is a seed, it represent fertility, abundance, and  fruitfulness.
When a bitter almonds is used in a dragée, the hard sugar coating produces a piquant contrast of sweet with bitter;  the dragée thus represent an important part of the wedding vow: "for better and worse". Just as the  couple  has pledged to support each other in good times as well as in bad, those in attendance symbolically honor the marriage vows by partaking of the almonds. Sugar –coated almonds are often bundled in tulle, but tucked into tiny boxes embellished with silk blossoms and arranged on a tray, they become a field of flowers for guests to pick from.
The sugar-coated almonds  package can also be inspired by a wedding theme, so take time to think about everything needed to make them memorable.  If favors require individualized tags or labels, ask the calligrapher who addresses the wedding stationaries to make them , or ask a computer- savvy friend to print them.