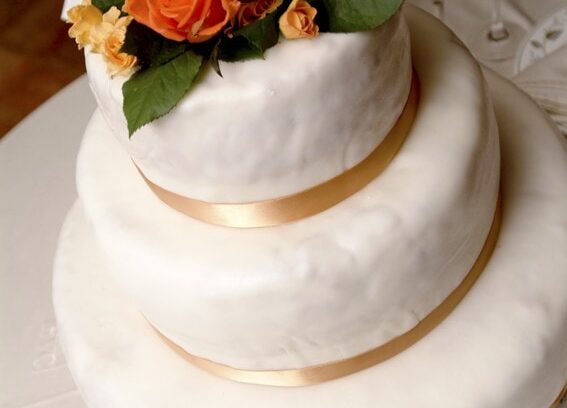 Settembre 29 , 2017
weddingdetails
Traditional wedding cake
A wedding cake complements the reception much the way a bride's bouquet is designed to enhance her dress. A formal dinner dance is best suited to a formal cake, but what does "formal" mean?
It's not too different from the way we think of formal fashion, which is characterized by structure, materials, and decoration.
A multitiered cake, with intricately designed icing and fresh or iced flowers arranged in a strict pattern, typically conveys formality. Certain icing applications are more formal than others: buttercream piped in a precise basketwork pattern; scrolls  that suggest fabric appliques; tiers wrapped in fondant "ribbons" ; white-on-white-flowers and ribbon rosettes, finished with buttercream dots.
Details from a wedding gown-a single bow, a row of buttons or pearl, a swatch of lace- can inspire a grand cake and can set the tone for the entire event.
The way a cake is presented can underscore its formality, too: a footed silver cake stand, a Chippendale cake table, or a table covered with embroidered organza are fitting formal displays.
Although any kind of cake can be structured, iced, decorated, and presented formally, one type is more innately dressy than any others.  A multitiered cake, white both inside and out, will evoke the formality of the past, and is always the appropriate gastronomic gesture if you want to pay a tribute to tradition.